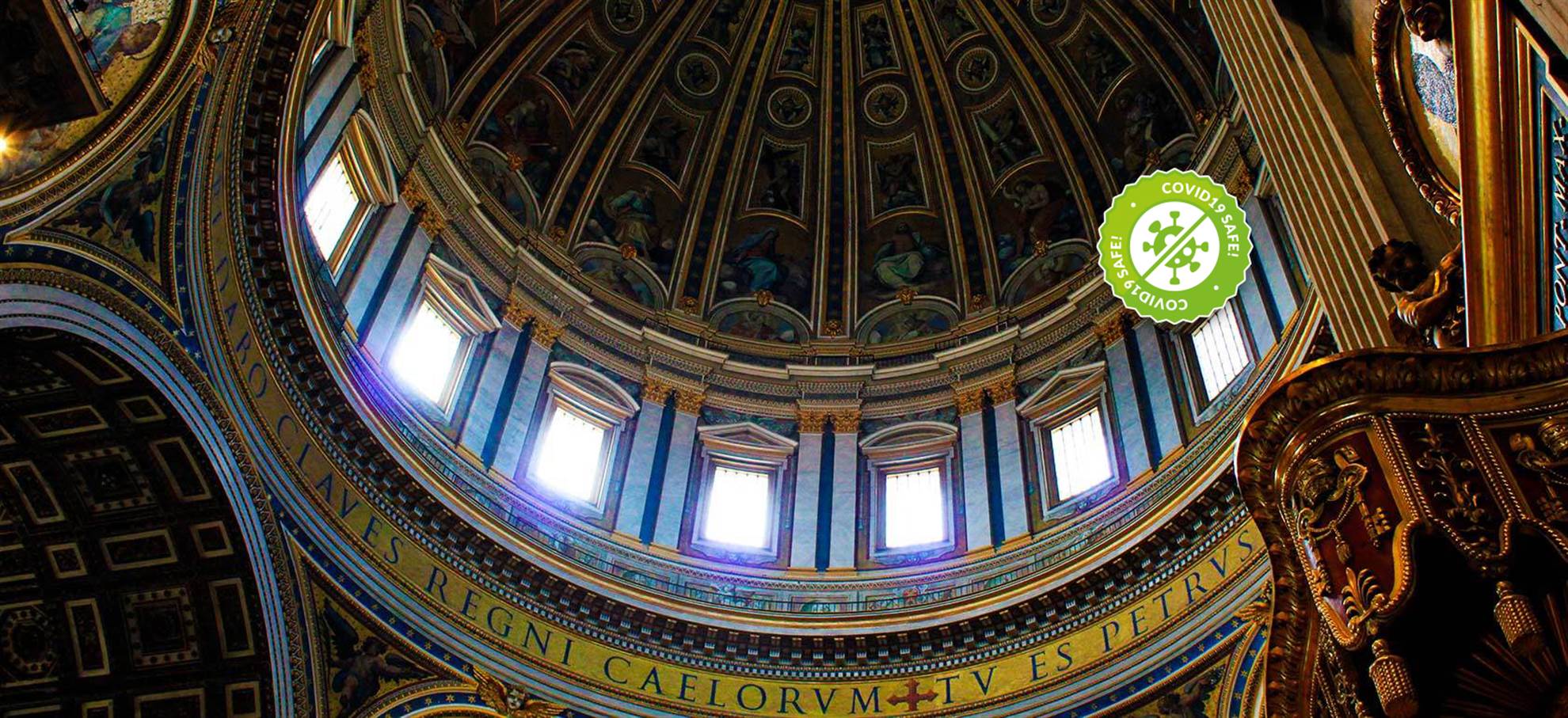 before
€

22,50
now
€

19,50
St. Peter's Basilica
To product

100% Mobile

Covid Safe
Visit St. Peter's Basilica – The True Heart Of Christianity
This is the place where faith, history and art come together in a unique synthesis of majesty and beauty. You will be amazed by the centuries-old history of the place, which began with the first shrine built over Peter's tomb and continued with Constantine's construction of the basilica. In the present day we can see the result of the prophetic vision of the Renaissance Popes in the 1600s.
We will visit all the sights, the naves, the chapels and the works of art contained within, where the talent and imagination of great artists (Michelangelo, Bernini and Raphael, to name a few) have been expressed to the best of human potential. Inside every monument, we will also find the living history of men, popes, saints and artists who have dedicated their lives to the church and to spreading the Christian message.
The ticket includes an audioguide. This audioguide should be downloaded in your phone. You will receive the instructions in a separate e-mail with your tickets.
COVID-19 SAFETY MEASURES
Due to the pandemic situation and to protect you and those around you, visits will allowed with the following sanitary norms and regulations:
Wearing a face mask can be required.
Distance between visitors is obligatory.
Guests may be subject to a temperature check.
Visit time may be limited.
Always follow the staff instructions.
WHY IS THIS PRODUCT CORONA SAFE?
Hand sanitiser available
Encouragement of mask wearing can be compulsory. Bring it when you can
Reduced capacity and distancing measures on the vehicles/vessels
Staff will encourage visitors to keep distance
By buying the tickets all visitors declare that they do not have cold-like symptoms such as nasal congestion, a runny nose, sore throat, light cough, fever (up to and above 38°C) and/or shortness of breath.
When you book a ticket, you automatically agree with our Terms and conditions
Attention:
COVID-19 emergency – Service does not provide for preferential entrance. Is mandatory to comply with the rules of social distancing and security checks.
Available languages:
Italian - English - Spanish - French - German- Japanese
Meeting Point:
ST. PETER'S SQUARE, Piazza Pio XII, 9, ORP office

Timetable:
Every day, from 9 am until 3 pm
Important information:
Children from 0 to 5 won't receive a ticket because they don't need it.